特進修学旅行2022 Kobe Osaka USJ
2022/05/18

We finally made it!
3S students went on a school trip to Kansai area.
"Travel broadens the mind."
Have you ever heard of this saying? It means that it is good to go on a trip in order to make our life more fruitful. I am sure that this school trip gave students a chance to know about Japan and to face themselves.
Day 1
We met at Tokyo station at 7:00. Everybody was there on time.
Our principal, Endou sensi, came all the way to see us off. He talked to each student as much as possible to make him or her feel comfortable.
We took our temperature and got on a bullet train. Every student enjoyed this super express train ride.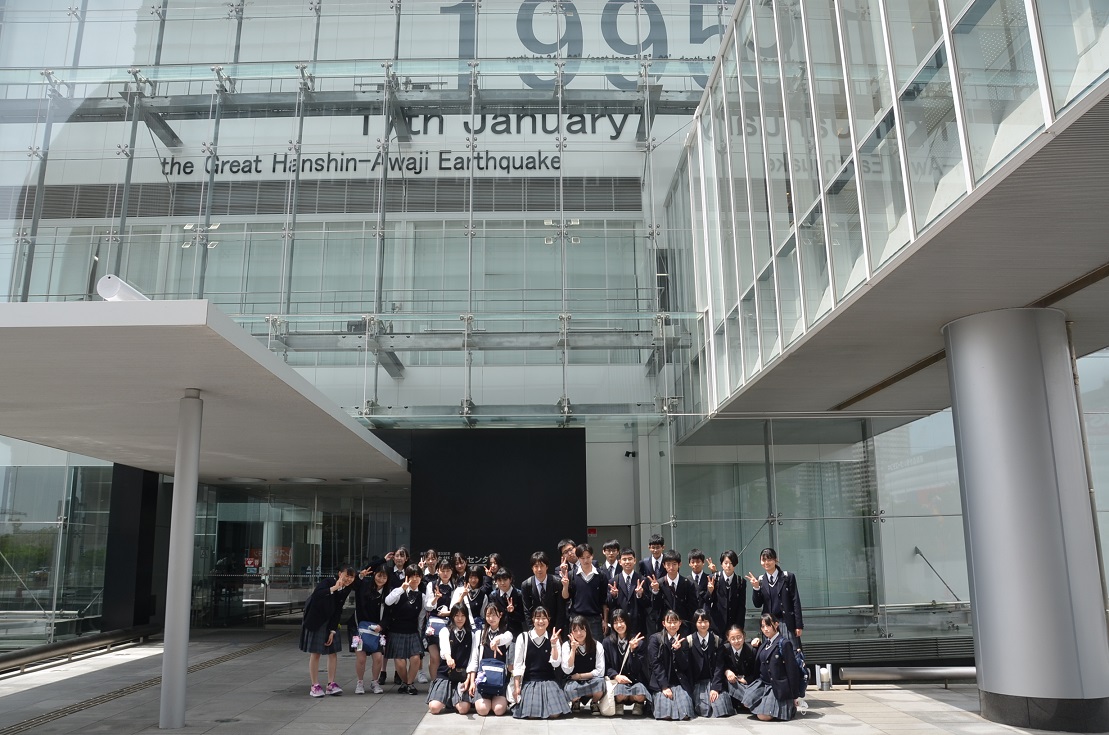 At Shin Kobe station, we got off the train and visited Disaster Reduction and Human Renovation Institution『人と防災未来センター』. This center was built after a big earthquake around Hanshin area to spread the word about a vital phase of local history and ensure that the lessons of the Great Hanshin-Awaji Earthquake are never forgotten.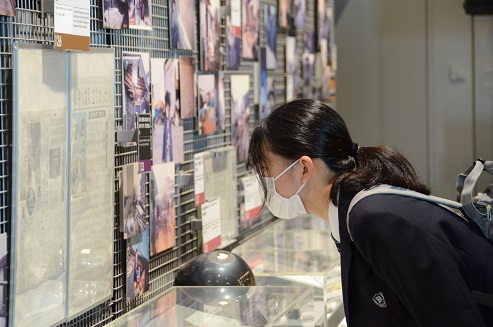 We learned that on January 17, 1995, Kobe, Osaka and the surrounding area were hit by a big earthquake. All lifeline services were destroyed. A large number of people had to face a long cold winter in temporary shelters. 6,434 people were dead; 43,792 were injured, 249,180 homes were completely or partially destroyed. At this center, we learned about natural disasters and how to minimize risk and damage in future.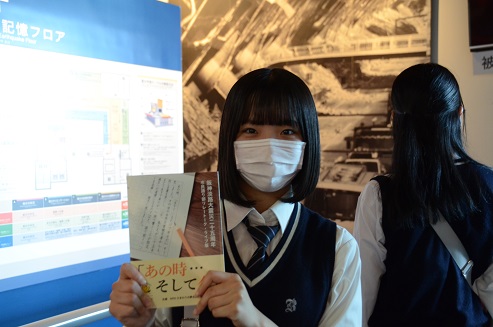 A volunteer, Mr. Arakawa, 80 years old gave us a lecture about the local circumstances just after the earthquake. In his talk, we learned about how to be a volunteer after the disaster. He said, "What we can do as a volunteer is what we can do in our daily life."
We listened to his story so seriously that he gave us a book.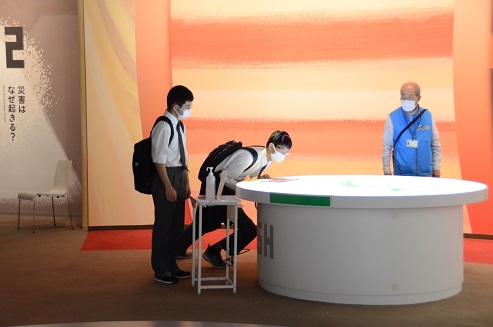 Every student walked around the exhibits and was interested in the items on display. In addition, at this center we can play some science games with the staff. We learned about how natural disasters occur and how we can prevent natural disasters. In short, we enjoyed science games and realized about how natural disasters are caused at the same time.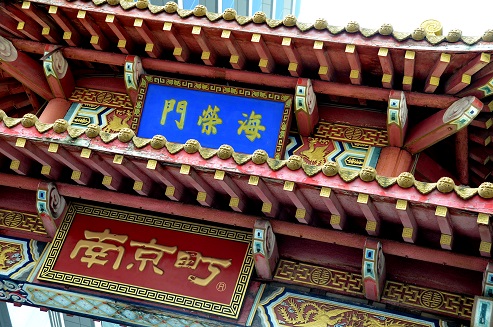 We went for a walk around Nankincyou area to explore Chinatown. We enjoyed eating around.
Some students got "小籠包" xiao long bao.
One of the students said, "This is hot with meat juices bursting out, but it was so delicious."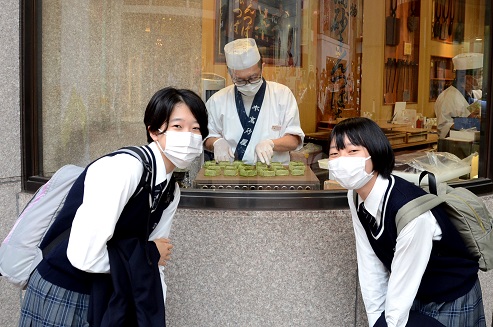 Some students searched for more information on the internet. They went straight to the famous Japanese sweets shop. They were happy with a famous Kintsusba. They went to the oldest coffee shop in Japan but it was closed. They were disappointed but soon they moved forward. "School trip is too short to waste."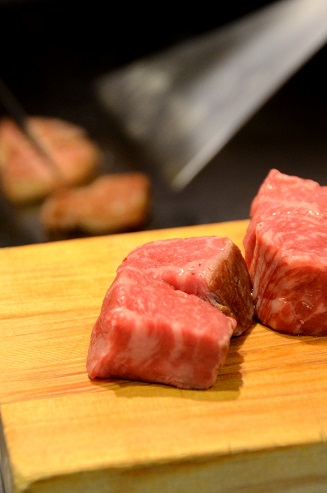 Someone is brave enough to eat a Kobe Beef stake. He said, "Do you know Kobe Bean Bryant? He was a famous American professional basketball player. He was one of the premier shooting guards in NBA. One day I happened to find an article about Kobe Bryant in a magazine I was reading. According to the article, his parents named him after the famous beef of Kobe, Japan, which they saw on a restaurant menu. After I read this article, I wonder how good Kobe beef stake really is. I have long wanted to eat it. On this trip, this would be my first and last chance. Our tour guide recommended a nice restaurant. I asked a clerk at a souvenir shop where the best stake house is. His answer was the same restaurant. Finally, I decided to enter the expensive stake house. I ate the world-famous Kobe Beef Stake. I crossed one thing off of my bucket list."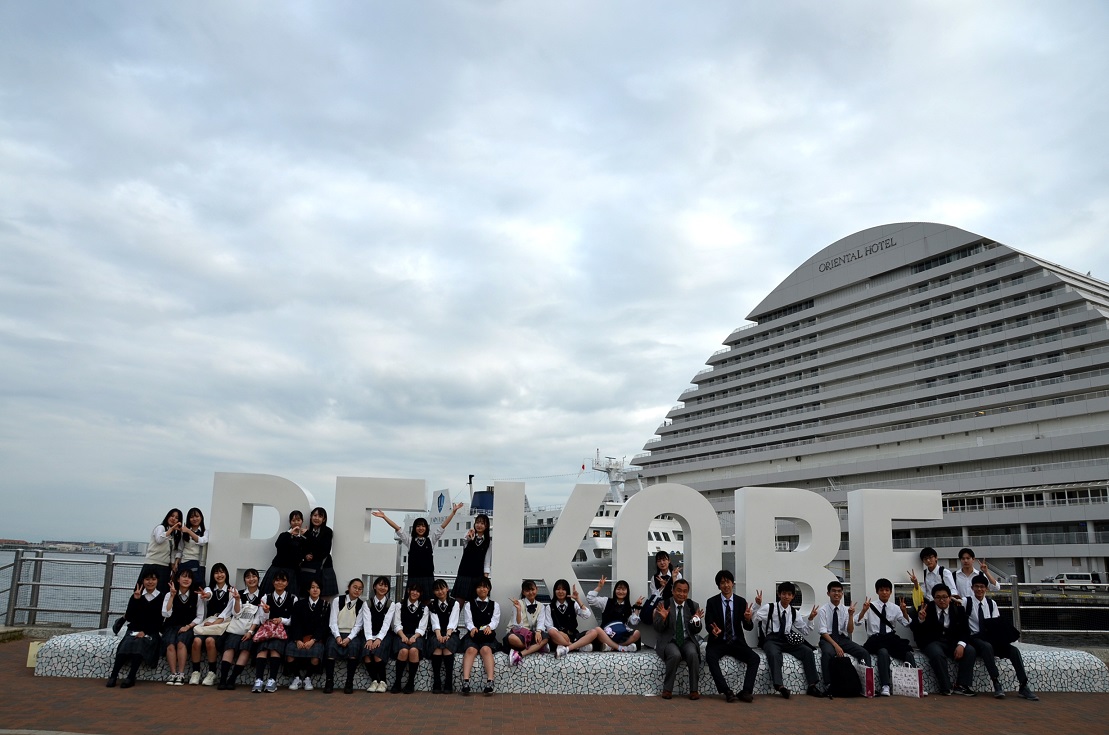 BE KOBE
Some students had intended to go to museums but they were closed. They spent a comfortable time watching ships on the sea. Our meeting point was a famous monument, "BE KOBE". Kaneko sensei planned to take a group photo. We took Insta-worthy pictures.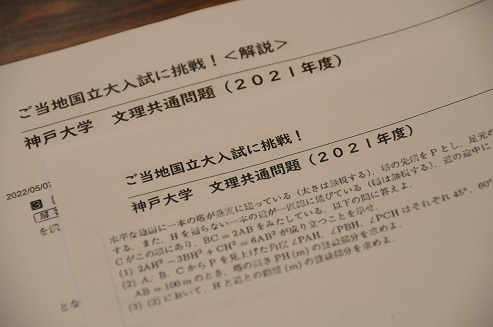 At hotel.
Kaneko sensei gave students a game. Today we visited Kobe, that's why he prepared for a local entrance examination from Kobe university. If students answer this question, they will get a prize. Even if they can't answer this question, if there is a Bingo written on the back of the paper, they can also get a prize. Students enjoyed this game.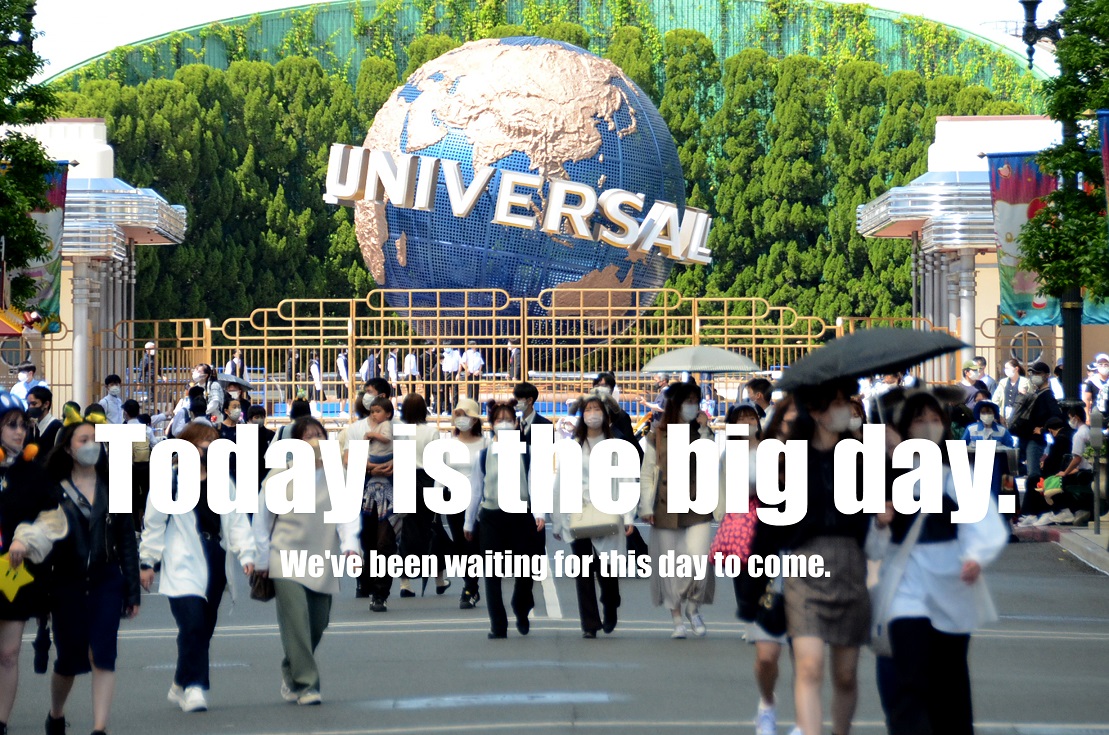 Day 2
Today is the big day! We visited Universal Studios Japan.
No limit! Here is a Super Energetic Special Zoon.
Universal Studios Japan (USJ) is one of the most popular theme parks in Japan. Universal Studios Japan consists of 9 areas of attraction including Hollywood, New York, Minion Park, Amity Village, Jurassic Park, Water world. Wonderland, and not to be forgotten, Harry Potter the Magical world.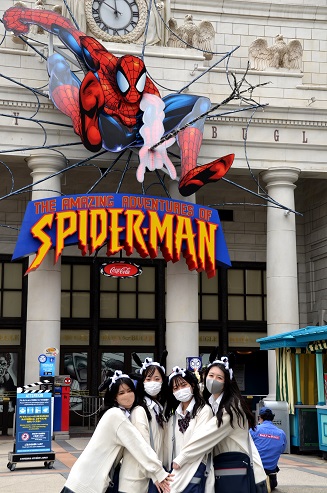 The park said it opens at 10 am, but it really opens at about 9:30. We expected it. We left the hotel earlier. According to the weather report, there is a 80 percent chance of rain that day. True, it was raining in the morning, but soon it stopped raining. We had a beautiful day. Because of this weather, there were fewer people than we had thought. We could enjoy all the areas in the park. We were very lucky to visit the park on a day when it was relatively quiet, so we didn't have to wait long for rides or food. We spent a whole day in Universal Studios Japan.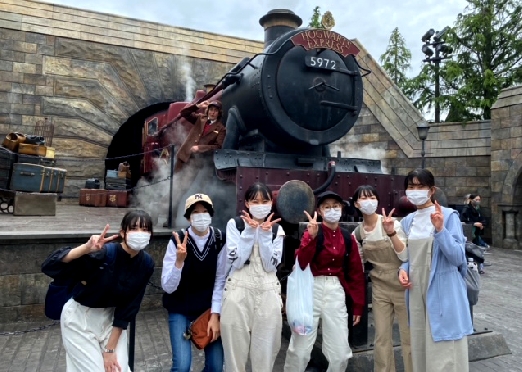 Most students' favorite area is The Wizarding World of Harry Potter. One of the students said, "The Harry Potter attraction is just a must! You cannot skip it."
Some students took a photo next to the Hogwarts Express.
"Harry Potter was the highlight of the day."
"My favorite part of my experience is the Harry Potter ride experience."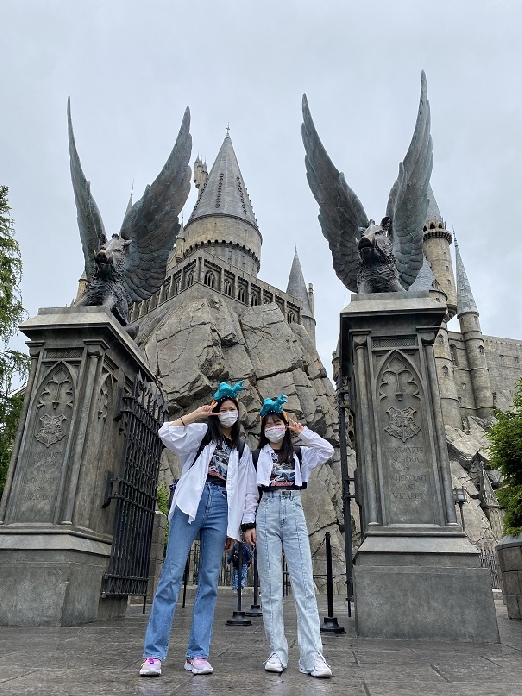 A comment from A student (T.M.)
I love "Harry Potter" movies. I went to the movies when I was little. I have wanted to to Universal Studios Japan, especially, the area of "Harry Potter". Finally…finally. My dream comes true. I could go to Universal Studios Japan on this school excursion.
When I walk around the area, I saw "Hogsmeade Village" ( it appears in the movie ). I was very excited and impressed…I am at loss for words. I just said, "Wow…" The village which I saw in the movies was there. The shop, for example "Ollivander's shop"," Zonko's Joke Shop " and "Honeydukes", which appeared in the movies were there. When I walked for a while, and turned left, I could see "Hogwarts Castle" I was so impressed that I came near to crying. In "Hogwarts Castle", there were "Gryffindor's Common Room", "Dumbledore's room" and "Defense Against the Dark Arts Classroom". They were so amazing. Thye look like real things. I was glad that I went there. My mother and my sister are fans of "Harry Potter". I would like to take them to this magical wonderland someday.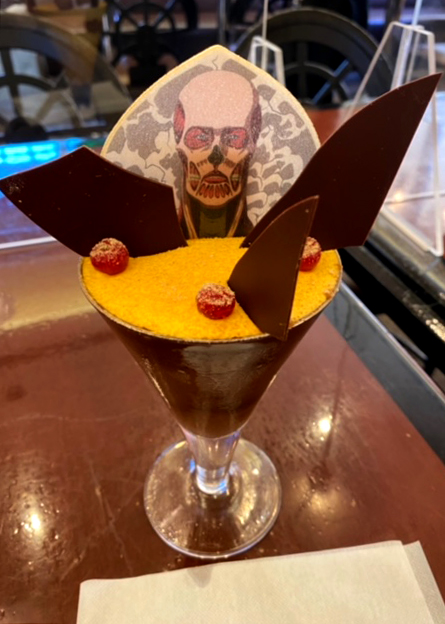 "I ate 進撃の巨人パフェ. my dream came true. It was excellent but expensive." Kaneko sensi said.
These are comments from students.
"We are on a boat with a captain and JAWS suddenly pops up."
"The Flying Dinosaur is outstanding! It's the scariest rollercoaster we've ever been on. This ride is so fast and disorientating that I don't remember exactly what happened."
"The Amazing Adventures of Spider-Man was exciting but it made me motion sickness."
"Jurassic Park is a water ride through the park filled with dinosaurs. At the end, there is a drop, where we got wet."
"Sailor moon attraction reminds me of my childhood days. I would often say 'On behalf of theMoon, I'll punish you!'"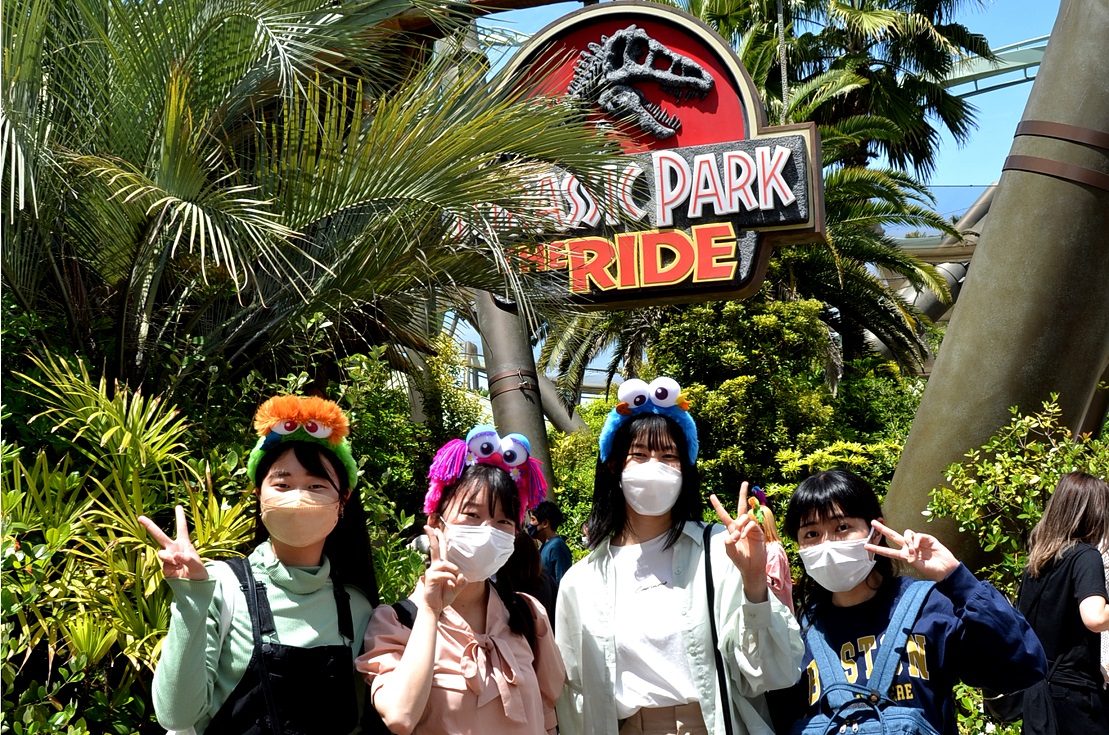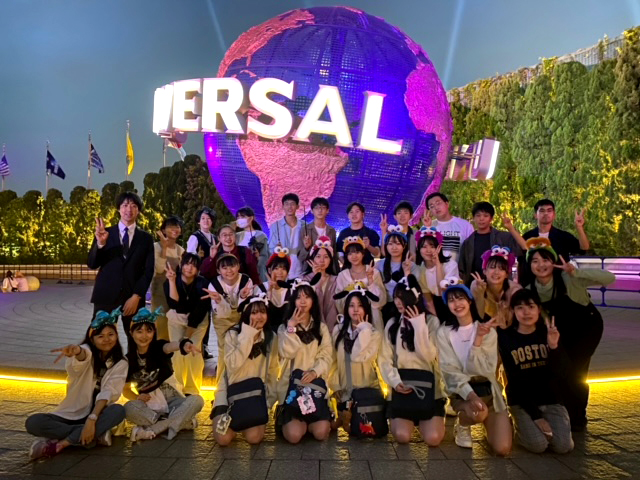 No Limit
The theme parks, attractions and rides, the shows, and the food are all excellent. We had an unforgettable memory.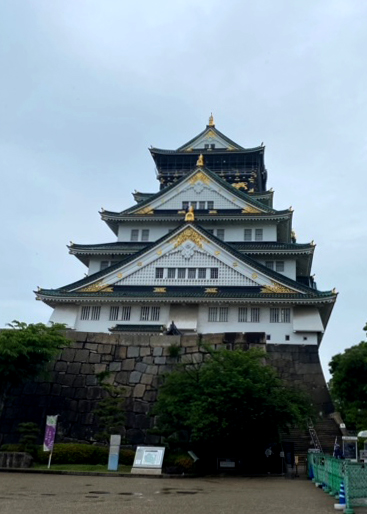 The Last Day
It was raining. We visited Osaka castle. Osaka castle was originally built by Hideyoshi Toyotomi. Our tour guide explained its history in detail. But almost all students had known what she said. That's why she was surprised and realized that our class was great. The main tower was rebuilt in 1931 and the original does not exist anymore. It's 54.8 meters high. We could go up with an elevator.
The view from the top of the tower is outstanding!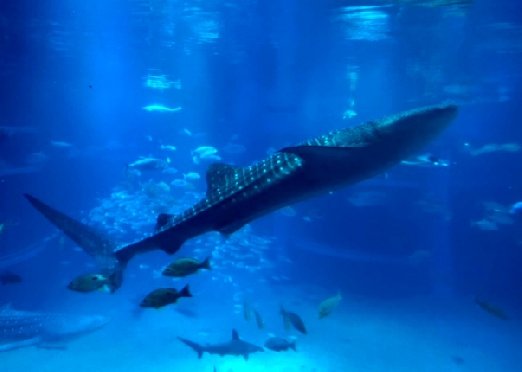 Have you been to the big aquarium?
In Osaka, there is a large aquarium called "Kaiyukan." 海遊館 is one of the most popular aquariums in Japan. It's an amazing place and they even have the biggest sharks, whale sharks, on display. Whale sharks are considered endangered. We wish there was something we could do for these sea creatures. The aquarium was very crowded. A lot of elementary school students were excited to see various fishes. We also enjoyed looking at rare sea creatures.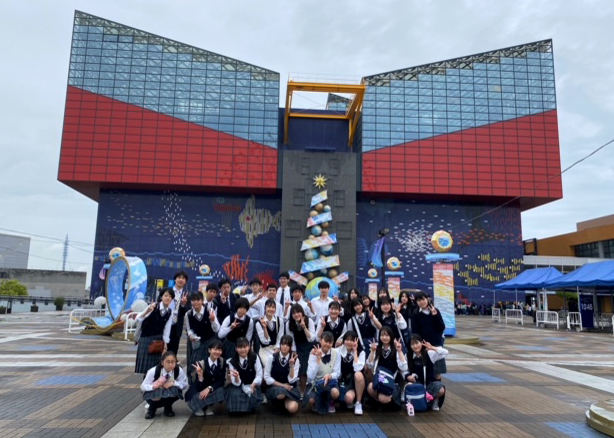 We had a wonderful Trip!
We cannot answer clearly what we learned from our school trip. We enjoyed ourselves from the bottom of our heart. All we can say now is that our class was a different class from the one 3 days earlier. Everyday we have to study hard for our entrance exam. We know we have to do that. But, maybe, we need to do something different for a change of pace. This school trip gave us a chance to look back on our dairy life.
When we can't come up with any good ideas, we change our perspective. Thinking in a different way sometimes helps us to get a good idea. Sometimes we have to think of things from different points of view. This experience makes students broaden their horizons.